After I installed the latest version of PL/SQL Developer on my Windows 7 64bit machine today, I got the following error message when trying to connect to an Oracle database:
Initialization error
Could not initialize "D:\oracle\product\11.2.0\client_1\bin\oci.dll"
Make sure you have the 32 bits Oracle Client installed.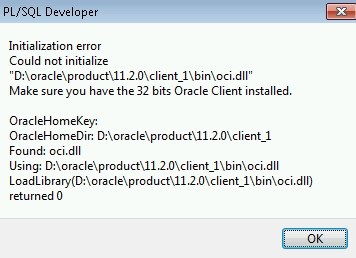 As I've found out, the solution is to install (actually, simply extracting the archive is enough) the latest 32bit version of the Oracle Instant Client and configure PL/SQL Developer to use it instead of the 64bit Oracle client under Tools – Preferences.

I found this solution here: Fix Initialization Error: LoadLibrary oci.dll returned 0 while trying to connect to Oracle using PL/SQL Developer.
However, PL/SQL Developer didn't recognize my tnsnames.ora anymore after I switched to the 32bit Instant Client. The solution is pretty simple: just create the directory network\admin in the 32bit Instant Client's directory and copy your tnsnames.ora from the real Oracle client's directory there.